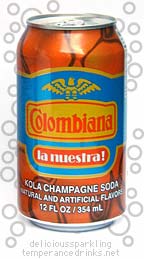 12 oz. can
3.08 g sugar / oz.
Review
A bright, peach-colored beverage. The taste isn't what I expected. Its not as full-bodied as other champagne sodas. Its not as rich or thick-tasting. But this one has a lot of hints of spice to it that make it intriguing. Just a little bit of spicy flavor behind all the sweet sugar that dominates most kola drinks. This has the vanilla/banana smell of a kola drink but just not so thick tasting.
It has a sort of almond flavor, something like a pistachio soda, a little dry and nutty. Not as full-bodied or cream-filled as some other kola champagnes, nor as escessively sweet.
fizz 3

refreshment 3

score 4

sweetness 3

flavor 3
Ingredients
Carbonated water, high fructose corn syrup, natural and artificial flavors, citric acid, sodium benzoate (preservative) and artificial colors (FD&C Red #40, FD&C Yellow #5, FD&C Blue#1).
Made by
Gaseosas Posada Tobon S.A.
Columbia