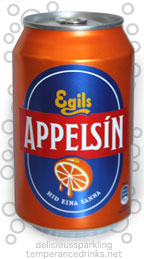 330 mL can
3.40 g sugar / oz.
Review
A sweet and smooth orange drink. Tastes like candy, but a creamy orange candy.
I like the creamy flavor which makes it more mellow than a sharp acidic citrus drink like Sprite or one of the Latin American fruit flavored sodas.
fizz 3

refreshment 4

score 4

sweetness 4

flavor 4
Ingredients
Innihald: Kolsyrt Vatn, Sykur, Bragðefni, Syrur (E300, E330) OG Litarefni (E 160E).
Carbonated water, sugar, flavor, acid (E300, E330) and dyes (E 160E).
Made by
Ölgerðin Egill Skallagrímsson
Grjóthálsi 7-11
Reykjavik
Iceland