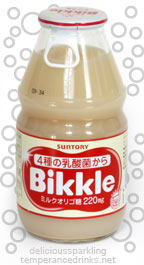 220 mL bottle
3.09 g sugar / oz.
History
Bikkle was created by Suntory in 1993 as one of Japan's first "functional drinks" which include healthful additional ingredients. The xylooligosaccharide in the ingredient list is a prebiotic fiber which is undigestible by humans but feeds beneficial probiotic bacteria in the gut.
Review
A cool and sweet yogurt soda. It has a sour yogurt smell, but the taste is lemony and sweet. Kind of too sweet, in my opinion, as if it's trying to hide how salty it is or something.
The texture is slippery and gooey on the tongue. Sort of like a watery shake or frappe, or maybe comparable to a Yoohoo or an Irish Moss. Maybe not a drink for people with food texture issues!
I like the citrus and milk flavor, it's like an orange dreamsicle. A bit too sweet for my taste, especially since it does not have carbonation to add a sour bite to the flavor.
fizz 0

refreshment 3

score 3

sweetness 5

flavor 2
Ingredients
Water, high fructose corn syrup, sugar, skim milk, xylo oligo saccharide, milk calcium pectin, citric acid, flavor, magnesium chloride, ascorbic acid.
Made by
Suntory Beverage & Food Limited
3-1-1 Kyobashi
Chuo-ku, Tokyo 104-0031
Japan