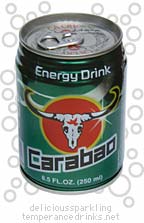 250 mL bottle
5.53 g sugar / oz.
History
Carabao began production in 2002. The energy drink is a partnership between superstar rock musician Aed Carabao (a.k.a. Yuengyong Opakul) and Tawandang German Brewery (a Thai-German restaurant and microbrewery in Bangkok). Like the rock band Carabao, the drink is named in honor of the water buffalo and its stalwart spirt. Mr. Carabao himself designed the drink's logo: a buffalo skull with a red bird representing freedom.
Review
Smells sweet & sugary like other energy drinks. But the color is disturbing: it looks like a strong orange urine! And it doesn't smell that great either. Theres no carbonation, its sour and a bit "off" tasting.
Its sugary & dusty like sweet tarts, but there's a medicinal aftertaste that is particularly gut-wrenching. Ugh. this not getting any more pleasant with each sip. I don't think I can finish it... This one is too sour and spoiled tasting. Like a turned apple cider, its curdling on my tongue. That aftertaste is a killer, it hits you a second after the sweetness. Yecch.
fizz 0

refreshment 1

score 1

sweetness 3

flavor 4
Ingredients
Water, sugar, citric acid, taurine, sorbitol, sodium citrate, caffeine, inositol, sodium benzoate and potassium sorbate (added to preserve product quality), artificial flavors, nicotinamide (niacin), D-Panthenol, pyridoxine HCI (vitamin B6), FD&C Yellow No. 5 (Tartrazine), FD&C Red No. 40, and Vitamin B-12.
Made by
Carabao Tawandang Co. Ltd.
261 Moo 2, Panvithi Road, T. Bang Priang, A. Bang Bor
Samutprakarn 10560
Thailand