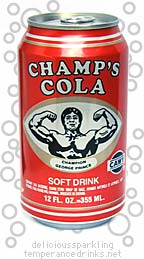 12 oz. can
3.75 g sugar / oz.
Review
Dark caramel colored, but the smell is chipper and light. And it does taste light & creamy. A very sweet and smooth drink. This one is so light that it is reminiscent of a champagne: bubbly & light. Its not as gooey or butterscotchy as some other champagne colas. Just sweet with a hint of vanilla & orange.
A sturdy & refreshing beverage.
fizz 4

refreshment 4

score 3

sweetness 4

flavor 4
Ingredients
Carbonated water, cane and or corn sweeteners, citric acid, FD&C Red #40, caramel color, natural and artificial flavors, preserved with sodium benzoate.
Made by
Cawy Bottling Co. Inc.
2440 NW 21 Terrace
Miami, FL 33142
USA
Other Cawy Flavors