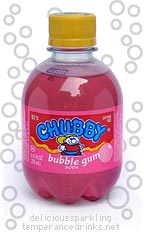 250 mL bottle
3.55 g sugar / oz.
Review
The thought of a bubble gum flavored soft drink is frightening to me, so I sip carefully. But this doesn't taste too bad. It's really more of a pink lemonade flavor with a hint of bubble gum.
Even though this bottle has lost much of its carbonation (cheap plastic bottle), it's not the gooey sweet syrup I imagined it would be, like so many other kiddie drinks.
It's got a lemonade citric acid flavor that makes it somewhat refreshing, even if the other flavors are completely artificial tasting.
fizz 1

refreshment 3

score 2

sweetness 2

flavor 2
Ingredients
Carbonated water, high fructose corn syrup and/or sugar, natural and artificial flavors, citric acid, modified food starch, sodium benzoate (a preservative), Red 40, Blue 1.
Made by
S.M. Jaleel and Co. Ltd.
Otaheite Industrial Estate,
South Oropouche
Trinidad, W.I.