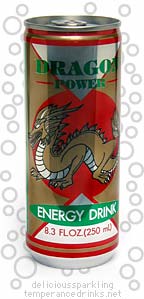 250 mL can
3.25 g sugar / oz.
Review
This smells like a typical energy drink. It smells the same, it looks the same. But it tastes more smooth and mellow than expected.
It isn't as extreme in sweetness or saltiness as some of the others. It still has that citric acid sourness, but it seems tempered somewhat, so that it has an apple juice-like aftertaste.
Not bad as an energy drink, but also not especially good either as a refreshing taste.
fizz 3

refreshment 3

score 2

sweetness 3

flavor 3
Ingredients
Carbonated water, sucrose, citric acid, taurine, sodium benzoate, caffeine, lysine, niacin (vitamin B3), inositol, pantothenic acid (vitamin B5), pyridoxine HCL (vitamin B6), cobalamin (vitamin B12), artificial flavor, artificial color added (FD&C Yellow No. 5, FD&C Yellow No. 6).
Made by
Vara Food & Drink Co., Ltd.
Thailand