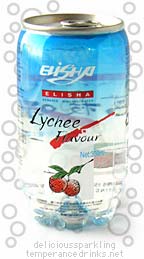 12 oz. can
1.62 g sugar / oz.
Review
This sure smells like fresh lychee: mellow, floral, slightly astringent. But the taste fails. Way overboard on the perfume. There isn't much taste to it actually.
Its very sugary water. Sugar water with perfume dumped into it. Doesn't sound very appetizing does it?
Well, after drinking it for a while, most of the perfume has evaporated. It really is fresh and fruity tasting but in its own weak way.
fizz 1

refreshment 2

score 2

sweetness 4

flavor 2
Ingredients
Mineral water, fructose, carbon dioxide, citric acid, malic acid, acesulfame potassium, aspartame (contain phenylalanine), sodium citrate, potassium sorbate, flavour.
Made by
Elisha Mineral Water Co. Ltd.
111 Tampines Road #13-02, YiMei Garden
Singapore 535133