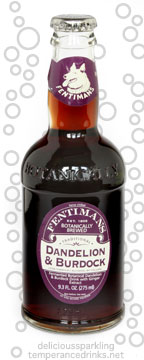 275 mL bottle
3.01g sugar / oz.
Review
Rich aroma, almost like a strong grape juice. Tastes hearty, with flavors of licorice, red fruits, and malt. Its reminiscent of a root beer with an earthy tinge. Clean flavor, not overly sweet or gooey. Delicious!
Tastes a bit like fruit-coated licorice candy. Not a harsh anise flavor, but a it has a hint of rooty bitter licorice.
fizz 3

refreshment 4

score 5

sweetness 4

flavor 5
Ingredients
Water, carbonated water, sugar, pear juice concentrate, glucose syrup, ginger, dandelion & burdock flavour, dandelion strong infusion, burdock strong infusion, aniseed flavour.
Made by
Fentimans Ltd
90 Grey Street
Newcastle upon Tyne NE1 6AG
England