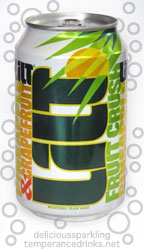 330 mL can
1.33 g sugar / oz.
Review
Wow, surprising, it isn't sweet. I was imagining something juicy like Cactus Cooler but its dry, almost salty. The grapefruit citrus is bitter on the tongue. But then the aftertaste of aspartame & saccharine kicks in & it tastes kind of gooey & overly sweet. I don't care for the fake sweetener flavors.
Now that my tongue is more accustomed to the grapefruit taste, the pineapple flavor is more apparent. It's not especially exciting as a drink, a rather mellow beverage.
fizz 3

refreshment 2

score 2

sweetness 2

flavor 2
Ingredients
Carbonated water, fruit juices from concentrates 5% (pineapple, grapefruit), sugar, citric acid, flavourings, antioxidant (ascorbic acid), sweeteners (acesulfame K, aspartame, sodium saccharine), preservative (E202), stabiliser (E412), colour (beta-carotene).
Made by
Coca-Cola Company of Northern Ireland
Lambeg
Ireland