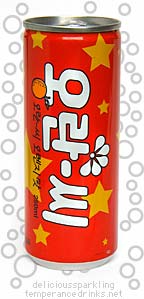 250 mL can
4.22 g sugar / oz.
Review
This smells pretty orangey, sort of like a creamy orange Dreamsicle. The taste is straightforward orange soda, but a good one. Its not a real orange juice flavor, instead this is a well-flavored citrus soda.
Strong flavor, a refreshing drink.
fizz 3

refreshment 5

score 4

sweetness 4

flavor 4
Ingredients
Fructose, sugar, carbonic acid gas, citric acid, flavor.
Made by
Donga Otsuka
Korea