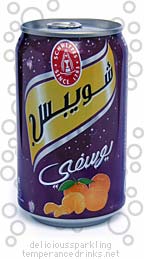 330 mL can
Review
A sweet and refreshing drink. Its flavorful & sugary, although tangerine can be so much harsher than orange. It has a sour edge to it, a little sharp in the back of the throat, but overall this drink is refreshing & enjoyable.
It tastes fruitful with natural flavors, although its still a soft drink, not a juice. It tastes similar to a Minute Maid orange drink, a soft drink with real orange juice adding to the flavor.
fizz 3

refreshment 4

score 4

sweetness 4

flavor 4
Ingredients
Carbonated water, sugar, natural tangerine juice, citric acid, flavours, preservative, acacia gum, sunset yellow, tartrazine.
Made by
Societé Nationale d'Industries Nutritive - SONUT
8 El Mansouria Road
Ahram, Giza
Egypt