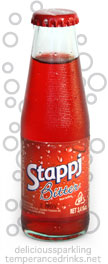 3.4 oz. bottle
3.82 g sugar / oz.
Review
Bright red color and a slight cherry flavor to this drink, or is it just the bright red color affecting my taste sensations? It's sweet at first sip but followed by a bitter aftertaste, reminiscent of a fresh bitter grapefruit.
Not as sharp flavored as a Chinotto drink, or as earthy bitter as a Moxie, but a tasty & refreshing beverage.
fizz 2

refreshment 4

score 4

sweetness 3

flavor 4
Ingredients
Water, sugar, carbon dioxide, natural flavors, acidifier: citric acid, preservative: sodium benzoate, colour: F.D.&C. Red n. 40.
Made by
Di Iorio S.p.A.
Via Filangieri, 49
Frosolone 86095 IS
Italy