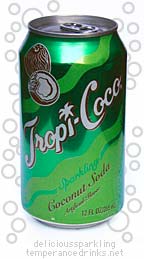 12 oz. can
3.75 g sugar / oz.
Review
This is artificial coconut. It appears that artificial coconut flavor is created mostly with salt. Salt and a little sugar and a little cream. I'm not a fan of coconut, so this doesn't seem that great to me.
Too salty to enjoy much. But its drinkable & pleasant in some ways. It has a flowery overtone that almost tastes like a bit of vanilla. Its a mellow drink, a bit like a cream soda with extra salt.
fizz 3

refreshment 2

score 2

sweetness 2

flavor 3
Ingredients
Carbonated water (water, carbon dioxide), high fructose corn syrup, artificial flavor, sodium benzoate and potassium sorbate (preservatives) and phosphoric acid.
Made by
Sabor Brands Inc.
Secaucus NJ 07096
USA