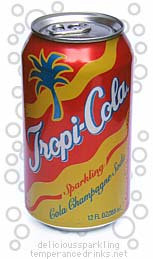 12 oz. can
4.75 g sugar / oz.
Review
Sugary sweet. This has a lot of carbonation and a lot of artificial banana flavor. It tastes like a circus peanut sizzling in carbonic acid, cotton candy & orange juice, bubblegum & banana. Its a strange conjunction of flavors. Mellow soothing creaminess and fierce carbonic sizzle makes it refreshing and peppy, if also syrupy sweet.
Its tasty but really too gooey for me.
fizz 4

refreshment 4

score 3

sweetness 4

flavor 3
Ingredients
Carbonated water (water, carbon dioxide), high fructose corn syrup, artificial flavor, caramel color, citric acid and sodium benzoate (preservative).
Made by
Sabor Brands Inc.
Secaucus NJ 07096
USA