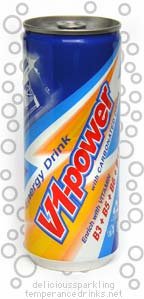 250 mL can
3.20 g sugar / oz.
Review
This smells strong like vitamins & horse pills. But it doesn't taste so bad. Its not much different from a strong apple juice, an apple juice made from extra tart apples with dust and extra sugar thrown in for good measure.
As an energy drink to replenish nutrients after exercising, I suppose this is good enough, but then doesn't anything taste great if you're hot & thirsty?
fizz 2

refreshment 3

score 3

sweetness 4

flavor 3
Ingredients
Carbonated water, sucrose, citric acid, taurine, sodium benzoate, caffeine, lysine, niacin (vitamin B3), inositol, pantothenic acid (vitamin B5), pyridoxine Hcl (vitamin B6), cobalamin (vitamin B12), artificial flavor, artificial color added (FD&C Yellow No. 5, FD&C Yellow No. 6).
Made by
Sheng Sheng F&B Industries PTE Ltd.
Litat Import & Export PTE Ltd.
125 Tuas View Square
Singapore 637739