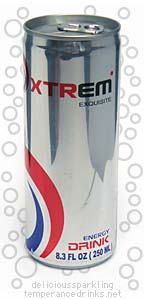 250 mL can
3.77 g sugar / oz.
Review
Golden sweet sugar!! I can smell the cyanobalamin already...
Hmm, this energy drink is pretty tasty, like a crisp apple juice, its sharp on the tongue, stimulating. Its a sweet drink with tart aftertaste, enought to raise the blood in the cheeks and give a feeling of adrenhaline.
Not as gritty as some other energy drinks, this is pretty smooth with apple-juicy sweetness and tangy tartness.
fizz 2

refreshment 4

score 4

sweetness 4

flavor 4
Ingredients
Carbonated water, sugar, citric acid, taurine, gluconorolactone, caffeine, inositol, niacin, pantothenic acid Vitamin B6, Riboflavin, B12, artificial flavors, colors.
Made by
Enerdrinks Noroeste St.
Santiago Compostela 15705
Rua do Corgo 13 Meixonfrio
Santiago Compostela la Coruña
Spain