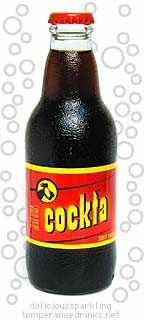 250 mL bottle
3.13 g sugar / oz.
History
In 1952, Ivan Deu, director of the Slovenijavino winery, returned from America with a bottle of Coca-Cola and a plan to create a similar beverage to be Yugoslavia's first soda pop. Chemist Emerik Zelinka crafted the recipe, made from pomegranate and lemon along with rose hips and other herbs. The drink was originally named Yugo Cockta, taken from "cocktail", then later changed to Cocta Cockta in an apparent debt to Coca-Cola. The drink does not contain caffeine. Despite the similar color and name, the flavor is not a cola drink and does not taste like Coke.
Cockta launched in early 1953, a chilly time of year for a soft drink. The drink made it's debut at the ski-jumping competition in Planica, with advertisements and uniformed drink vendors all the way from the train station to the ski runs. By the next year Slovenijavino had sold 4 million bottles of Cockta. You can see some of the excitement of the hip modern image of the drink in the first advertisment for Cockta from 1953:
After the breakup of Yugoslavia and Slovenia's independence, the brand lost sales and the company declared bankruptcy in 1994. The brand was kept afloat but was fully revived when purchased by Kolinska d.d. in 2000. In 2010 the Croatian conglomerate Atlantic Grupa purchased Kolinska. In 2014 and 2015 five new flavors of Cockta were released including Cockta Lime & Ginger, Cockta Mandarin, Cockta Easy (diet), Cockta Chinotto, and Cockta Black Tonic
Review
This smells fruity & sweet but the taste is a bit bitter. Its sugary sweet like a Red Bull with tart dusty sugar, bu then the aftertaste wipes it away. Its got a dry light taste, especially if the glass has been sitting for a little while. Its a stronger flavor than the Elderflower drink but not so strong as Vimto.
fizz 3

refreshment 4

score 5

sweetness 3

flavor 3
Ingredients
Carbonated water, sugar, citric acid, caramel colour, flavours, sodium benzoate.
Made by
Atlantic Grupa d.d.
Miramarska 23
10000 Zagreb, HR
Croatia