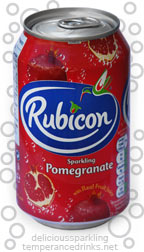 330 mL can
3.73 g sugar / oz.
History
Rubicon was founded in the UK by Naresh Nagrecha and Vishram Vekaria in 1981. Seeing a niche market for exotic fruit-flavored sodas, the food scientist entrepreneurs created the "Passionade" flavor in Vekaria's kitchen and began manufacturing it in 1982. The drinks sold well and the company gradually expanded to ten different flavors such as guanabana and mango sparkling sodas.
In 2008 the founders sold the company to A.G. Barr, maker of Irn-Bru for £60 million.
Review
Refreshing punch flavor of pomegranate. Its sweet and artificial, but the sour pomegranate makes it more interesting than other artificial fruit sodas. An enjoyable drink, refreshing.
fizz 3

refreshment 4

score 3

sweetness 4

flavor 4
Ingredients
Carbonated water, sugar, fruit juice from concentrate 5% (pomegranate 4%, aronia 1%), acid (malic acid), flavourings, colour (anthocyanin), preservative (E211).
Made by
Rubicon Drinks Ltd.
Magna Park, Crossley Drive
Milton Keynes MK17 8FL
England