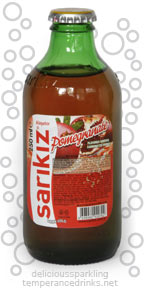 250 mL bottle
2.50 g sugar / oz.
Review
Lots of fizz action but light in flavor. The pomegranate flavor seems almost an afterthought, just a mild sour aftertaste, vaguely reminds me of the aftertaste of Nutrasweet. There's a sweet fruit flavor like cherry at first, but then the sour pomegranate flavor.
A refreshing drink, even if it seems to have less flavor than the Rubicon Pomegranate. Light and clean tasting.
fizz 4

refreshment 4

score 4

sweetness 4

flavor 2
Ingredients
Natural mineral water, sugar, carbon dioxide, acidity regulator (citric acid), natural pomegranate flavor, colorful pomegranate flavor, preservative (sodium benzoate).
Made by
Alasu Gida San. ve Tic Ltd.
Ataturk Bul. No. 186
Alesehir
Turkey